So, while Boy and I were in Paris (I'm really trying not to sound too blasé about it!) we went on a tour of the city's highlights. It included an hour in the Louvre to view some of the most famous artworks there. Turns out, you have time to see 3 in one hour. Also, we had to wait in the foyer for what seemed like quite a long time while the tour guide sorted out our tickets. There were 8 of us in the tour group, but apparently he only had authorisation to bring in a maximum of 5 people. He managed to get tickets for all of us, but then we had to pretend we weren't together while we went through the barrier. Not quite as thrilling as
The Da Vinci Code
, but I still felt vaguely naughty. The guide assured us that we'd be able to see everything that was promised, because he knew the 'secret' back ways to get from one area to another.
First he showed us this: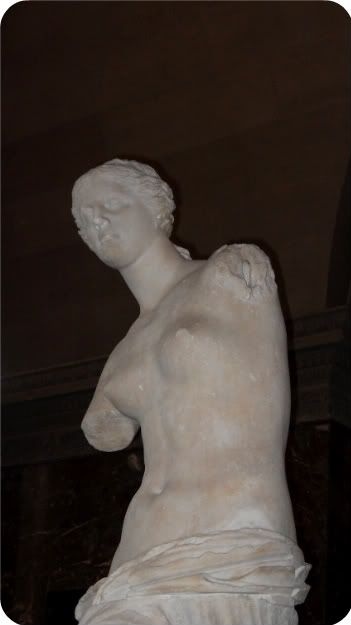 The Venus de Milo
Then we whizzed past this: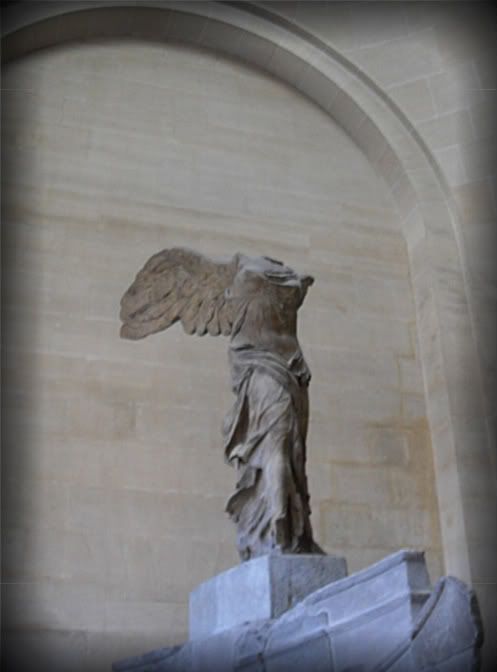 The Nike of Samothrace
Which is quite a shame really, as the Nike of Samothrace is one of my favourite sculptures and I was very much looking forward to seeing it. It was displayed at the top of a grand staircase and was really quite impressive. However, I spent most of my viewing time trying to get up the staircase without tripping over, running into anyone or losing the tour guide. It was still wonderful, though. We got hurried through a series of rooms which contained things like this: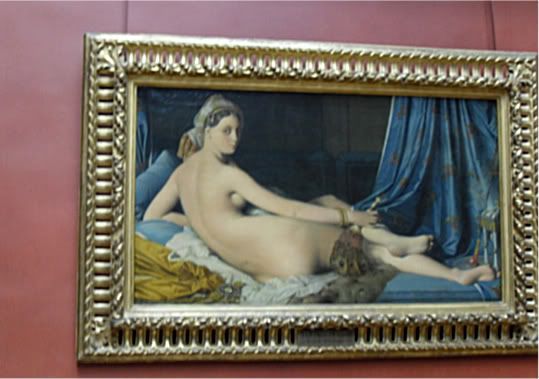 La Grande Odalisque
"But, but, but ... wait! That's the .... by ....!! I studied that!"
But there was no time, because this awaited us:
Mona Lisa
Oui
, the big one! Or the small one, actually. There was a barrier about 10 metres infrom the painting and the gallery was absolutely chockers with people. I can't believe I managed to get a shot without any other people in the frame whatsoever! I'm quite impressed with myself.
It's just mind-boggling to think there are 12 miles of galleries at the Louvre! I have to go back! And on the way out, our tour guide - a deliciously typical Frenchman - pointed out the little-known entrance where there's never a queue, so I'm all set for next time.